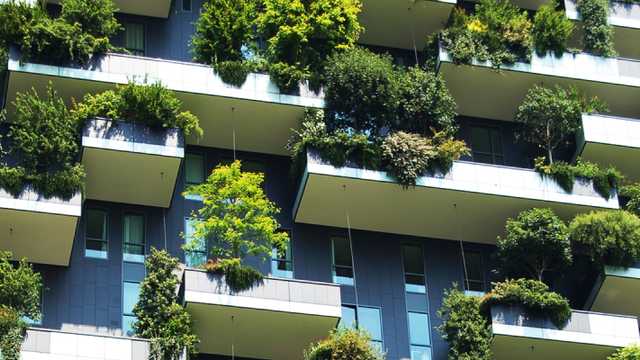 Design a solution that helps buildings become more environmentally sustainable or promotes the use of "green" building materials.
SDG 11 calls for making plans and taking action to improve life in cities and human settlements. This goal seeks to make communities safer and healthier, more inclusive, more environmentally sustainable, and more resilient in the face of natural or man-made disasters – and it's increasingly evident that our urban spaces should reflect the world we want to live in.
Buildings and the resources used to design, create, and operate them have the greatest potential to make big impacts as the UN Environmental Programme finds that buildings alone are responsible for over 40% of the world's global resources and the largest contributor to emissions.
What is a "green" building?
According to the World Green Building Council, a green building reduces or eliminates negative impacts, and can create positive impacts, on our climate and natural environment through a variety of methods such as:
reducing waste measures
preserving good indoor air quality
efficiently usage of energy, water, and other resources
adaptability to changing environments
considering the environment in its design, construction, or operation
A green building can be any building such as your home, school, office, hospital, or community center.
Check out the requirements needed for LEED certification, a framework that provides verification for buildings that are rated as green buildings.
How can your school, community, or city make changes to meet these requirements, or new ones you create? You can also research if any buildings near you are LEED certified (or similar).
Your challenge is to consider innovative products or services to help buildings become more environmentally sustainable. Ideas can include new methods of construction or construction materials, certifications, or new projects.
Not sure how to dig in? Take a closer look at how these changemakers are leading the way to a greener city life:
Link Logistics
Link Logistics is a leading national owner of last-mile logistics real estate designed to meet the needs of the modern supply chain. The Company, established in 2019 by Blackstone, operates the largest portfolio of logistics real estate assets located exclusively in the U.S. Link has the scale, geographic footprint and logistics expertise, as well as a heightened focus on sustainability, to power the supply chain of tomorrow.  For more information regarding the Company, please visit www.linklogistics.com.
"At Link, we invest in innovative partnerships and pursue initiatives to help address climate change. We are thrilled to support NFTE's World Series of Innovation and the young entrepreneurs leading the way to a sustainable future."

Anthony Hazen / Senior Property Manager